When the tale of 2020 is told, the headline will certainly be the impact of COVID-19. But that wasn't the only thing above the fold. Social justice demonstrations, natural disasters, layoffs and furloughs, working parents' stress, increasing remote work, and mental health struggles all took their turn in the spotlight and a toll on employee well-being, productivity and engagement. After a year that's been anything but typical, looking back at the trends and insights of the past 12 months is much more challenging. It's easy to write the year off as an outlier or anomaly; however, as change becomes the norm and agility the buzzword of the moment, a review of 2020 can hopefully provide the beginnings of the blueprint of how employers, benefits advisors and HR professionals can handle the continuing ripple effect of these issues in the months and years to come.
Related: A fresh start for benefits in 2021
It's no wonder that, with so much on our plates, benefits technology and communication played second fiddle to other technology and communication priorities this year. Communication and technology focused on issues such as supporting safety for frontline workers; facilitating an overnight shift to working remotely for others; handling layoffs, furloughs and other job actions; and having overdue conversations around diversity and inclusion, to name a few. Yet, amidst a global health crisis and with so much other upheaval, it's also true that benefits technology and communication was even more critical than usual to appropriately support employees and meet their evolving needs. So, how did we do?
Hear all about it: Benefits communication on the rise
It's safe to say that companies, regardless of their typical communication styles and approaches, had to communicate more in 2020 than in recent years. And research conducted by Alight Solutions shows that employees noticed and appreciated the additional effort made by their employers. In the annual 2020 Workforce Mindset Study, which surveyed 2,503 people working at U.S. employers with more than 1,000 employees in July 2020, more felt their employer did a good job communicating overall. Employees rated employer communication as open and honest at the highest rates since the start of the study.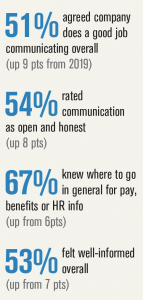 COVID corner
Employees appreciated employers' communication efforts during the pandemic. Almost half said they now felt better about their employer, based on things such as employee communication and benefit offerings. This was less true in industries that had more front-line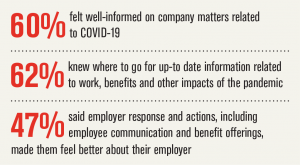 or essential workers, such as retail, hospitality and health care. Employees in these industries were less likely to feel their employer had responded to the needs of employees during the pandemic and were less likely to know where to go at work for information relevant to the pandemic.
More than the pandemic
Because 2020 was anything but one-dimensional, employers also responded to the recent social justice demonstrations and an increased focus on diversity and inclusion efforts at work. Communication about diversity and inclusion policies was the top response by employers.
While communication activities outpaced other actions, such as company donations, policy changes or new diversity and inclusion groups, a quarter reported that their company did nothing. While 55% of all employees say that their employer has done enough, another 38% felt employers still needed to do more. This may ultimately become a case where actions speak louder than words.

Top trends
The pandemic also accelerated innovation in the benefit space. The rise of caregiver resources, childcare programs and virtual learning/tutoring support were all programs in which employers invested more in 2020. On the savings side, there were CARES-related actions, new employee assistance funds, financial coaching, and special loan programs to address the economic hardships many faced.
Communication also adapted in the face of these challenges. Benefits communicators had to be creative to reach employees wherever they were, without relying on the typical workplace communication such as posters or desk drops. One innovative example was the advent of the virtual benefits fair, replacing the traditional large location-based fairs. (Just the thought of picking up tchotchkes and shaking hands with benefit vendor representatives could make a person reach for a bottle of hand sanitizer.)
A wide variety of industries implemented virtual benefits fairs to make it easy to connect employees with vendors during annual enrollment season. Karin Elliott, associate vice chancellor for total rewards at the University System of Georgia, was pleased with the outcome, saying, "We saw the virtual benefits fair as a critical component of the 2021 benefits open enrollment strategy. Employees really appreciated the live events and the ability to ask us questions and get responses in real time. Our team was able to drive home the really important messages we wanted employees to know before they enrolled."
Certainly, employers embraced more digital communication. Microsites and targeted content pages became the norm to help quickly pull together relevant information on COVID, remote work, or support for working parents. Companies implemented mobile solutions and new apps. And while no one was actively looking for another Zoom meeting, benefits advisors and HR professionals effectively used conferencing platforms to hold info sessions, webinars and other benefits training with even more frequency in 2020.
Going old-school still maintained its appeal. Mailings to homes, which had been eliminated by many employers in recent years, helped companies ensure employees got the message, especially those with large populations working from home. A multi-channel strategy always has value, and even more so this year.
A couple of other trends were less about the channel and more about the approach. At many companies, benefits communication became more real and personal, and less corporate and antiseptic (pun intended). People still need to understand their benefits, but there was recognition that business as usual wasn't going to cut it. For example, talking about the benefits of telemedicine had to be grounded in our new reality. Plus, communication as navigation became critical. While navigation with 1:1 advocacy support may be ideal, there was a bent towards guidance in core communication and technology.
Always room for improvement
Yet, for all the effort and focus in 2020, almost half of employees didn't give their employers an A for effort in communication. And with 63% of employees saying that a company providing better than average benefits really differentiates one employer from another (second only to better than average pay, at 65%), benefits communication can't be neglected if people are going to recognize, understand and value the benefits offered.
There's also the dichotomy that 46% of employees agree it's their company's responsibility to help them financially if they are significantly impacted due to major economic or market disruption, even in the midst of layoffs, furloughs and other negative job actions. As the pandemic continues, it'll be interesting to see if there's a lasting impact on employee loyalty and trust.
Making a statement: Total rewards
For all of the programs and innovative benefits implemented in 2020, it didn't seem to move the needle for employees when it comes to their evaluation of their total package. The perceived adequacy and competitiveness of rewards remained flat and has shown little movement for the past five years. Even more disappointing, understanding of total rewards was at an all-time low. It's easy to see that total rewards communication isn't hitting the mark, as we saw a precipitous drop to 49% from 77% having a good understanding when we first asked this question in 2015.
On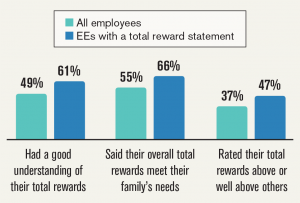 e bright spot came from those receiving total rewards communication. In fact, 70% of employees said they have a print or online total rewards statement available (up 4 points from 2019). When a total rewards statement was available, the numbers rose when it came to understanding, appreciation and perception. A 10-point bump across the board demonstrates impact without even knowing the actual effectiveness of the statement. If employers went beyond the simple pie chart and were even more innovative in their statements, they might get an even larger return on investment of the many programs they offer.
Time for a reboot: Benefits technology
HR platform perceptions remained low and flat when it came to ease, effectiveness and productivity. In fact, we've seen little change in these perceptions during the past four years. There were slightly better perceptions of overall workplace technology, as 60% of people said that technology enabled high productivity (up 3 points), 58% said they have the tools and technology to work effectively (up 3 points) and only 30% said it frustrated them (down 4 points). And a whopping 81% said that the amount of tools and platforms they have to communicate and collaborate is just right.

When it came to the top channels for getting an employee's attention about benefits, pay, and HR topics, email was still king. Email overload is undeniable, but people still expect to receive benefits information in this traditional manner.
The push for self-service in HR? It's catching on with employees, as they were more open to self-service when it comes to making changes to benefits, pay or HR information, rather than picking up the phone. And there was surprising acceptance of virtual assistants or chatbots to get it done.
The rise of the use of data and AI to target and engage employees in their benefits is undeniable; however, employees haven't completely bought in. In fact, just half said they trust their employer to use any data collected about how they work in an appropriate and ethical manner, and the same holds true when it comes to trusting appropriate use of data to monitor health status in a situation like COVID-19.
Speaking of the pandemic, only a third of employees said they had new tools or technology for work or to communicate because of the pandemic. Luckily, two-thirds knew where to go for pandemic-related information and benefits.
A look ahead: A new chapter
Benefits advisors and HR professionals have proven that they are nimble, adaptable and flexible. Just as many of them headed home in March to deal with many of the same work/life challenges as millions of Americans, they also answered the call to support employees at a time of crisis. They had to be ready to step in and answer questions on a variety of topics and evolving situations from employees and the C-Suite. They had to embrace new programs, identify new vendors, implement new policies, put the technology in place to support it and then communicate it quickly, clearly and empathetically. And then they often had to change course and adapt as new issues surfaced and new information came out.
While there is a universal hope for a return to normalcy, the story shouldn't revert to where we started. The purpose of benefits communication and technology was always to educate, connect and engage people. This year brought the acceleration of trends already present, as well as the exposure of some of our weaknesses.
Being thorough and thoughtful has its place, but we've learned that we can move quickly to address needs, stand up tools and technology, and deliver just-in-time communication channels and connection points without having every detail buttoned up and footnoted. Retention of the inventive benefits that surfaced, a brighter spotlight on diversity and well-being, communicating openly, plainly and compassionately, and a spirit of agility are all worthy of being kay parts of the next chapter for the benefits industry.
Laine Thomas Conway ([email protected]) is a vice president, the co-author of the annual Workforce Mindset Study, and the total rewards product leader in the Consumer Experience practice at Alight Solutions.
---
Read more: